2021 has been an exceptional year for Bioperfectus.
We have successfully achieved many milestones by supplying our molecular diagnostic products to where people need them most. The glorious stories and moments shaped 2021 of Bioperfectus, now come and follow us for our special #2021Review.
Section 1. Product & Manufacturing
1. New product launch
In the year 2021, we have launched 33 products in total out of our 7 product pipelines.
In the Respiratory Infectious Diseases pipeline, we have launched COVID-19 solution products ranging from COVID-19 Coronavirus (ORF1ab/N/E) Real-Time PCR Kit, Novel Corona Virus (SARS-CoV-2) Ag Rapid Test Kit for both professional use and layman use, adding up our Novel Corona Virus (SARS-CoV-2) IgM/IgG Rapid Test Kit, we can provide the complete solution against the SARS-CoV-2. With the leverage of SARS-CoV-2 variants, we quickly reacted to the fast-changing pathogens and launched Omicron, Delta, and Lambda Real-Time PCR Kits to detect the variants. As the influenza season approaches in the northern hemisphere, COVID-19 Coronavirus and Influenza A/B Virus Real-Time PCR Kit can detect different targets specific for SARS-CoV-2, Flu A, and Flu B.
In the Sexual Transmitted Diseases pipeline, we have launched 6 products in total, these products are designated to provide the molecular diagnostic solution for HPV, Neisseria Gonorrhoeae, Chlamydia Trachomatis, and U. Urealyticum diseases.
In Nucleic Acid Extraction Solution, we have launched the versatile and flexible nucleic acid extractor-SMPE-960. Combining the STC-96A Plus and STC-96A Real-Time PCR System, we can provide the automation solution for PCR laboratories.
In the Vector-borne Diseases pipeline, we have launched 13 products for malaria, dengue, zika, and yellow fever diseases.
Moreover, we also launched 400+ Research Use Only (RUO) products to the global market in a wish to further improve the level of research & development in the global infectious disease area. Review the whole launched product lists, please check the chart as below:

2. Market Approval
Regulatory market approval pathways are remarkable for our molecular diagnostic products and service, with the regulatory approvals from different regional markets, we are allowed to sell and market our molecular diagnostic or point of care testing products in a specific market. You may have a review of our market approval track in the chart below.
Timeline of the market approval
January 14, 2021: Bioperfectus COVID-19 Coronavirus Real-Time PCR Kit authorized by Philippines FDA

February 9, 2021: Bioperfectus Novel Corona Virus (SARS-CoV-2) IgG/IgM Rapid Test Kit has been granted a Brazil National Health Surveillance Agency (ANVISA) Registration.
April 13, 2021: COVID-19 Coronavirus Real-Time PCR Kit granted by SAHPRA, South Africa
April 20, 2021: Novel Corona Virus (SARS-CoV-2) Ag Rapid Test Kit has been approved by BfArM (The Germany Federal Institute for Drugs and Medical Devices).
April 30, 2021: Novel Corona Virus (SARS-CoV-2) Ag Rapid Kit has been approved for Self Testing Use in the Czech Republic.
May 20, 2021:

Novel Corona Virus (SARS-CoV-2) Ag Rapid Test Kit has been approved for Self-Test Use by the Austrian Federal Office for Safety in Health Care

July 2, 2021:

Novel Corona Virus (SARS-CoV-2) Ag Rapid Test Kit has successfully passed the PEI evaluation

July 15, 2021: Novel Corona Virus (SARS-CoV-2) Ag Rapid Test Kit (self-test) has received the approval of BfArM.
July 19, 2021: Novel Corona Virus (SARS-CoV-2) Ag Rapid Test Kit has been included in the EU Commission Health Security Committee common list of COVID-19 rapid antigen tests.

August 17, 2021: Bioperfectus molecular diagnostic products including Nucleic Acid Extraction System SSNP 2000B, 3000A, 9600A; COVID-19 Coronavirus Real-Time PCR Kit, and Nucleic Acid Extraction Rapid Kit were approved by SFDA.

December 2, 2021: Novel Corona Virus (SARS-CoV-2) Ag Rapid Test was approved by the Ministry of Health Israel
December 24, 2021: Bioperfectus obtained CE Mark for our Novel Corona Virus (SARS-CoV-2) Ag Rapid Test Kit (Self-test)
Note: The timeline of the market approval only serves as the review purpose. Please be subject to the dates stipulated on registration certificates for the specific registration and regulatory market approval dates.
3. Production Upgrade
Under the banner of "For a healthier life", Bioperfectus is dedicated to producing high-quality in-vitro diagnostic products. Bioperfectus' new headquarters was built and put into operation in the middle of 2021 to meet various production demands to facilitate automatic, smart, safe, and transparent manufacturing. So far, our production capacity has ramped up to 5 million tests/day; under the support of 5G+MEC data collection equipment, our logistics and warehousing fully achieve automation and digitalization management.
Section 2. Marketing & Branding
1. "A Small Step"
We strongly believe that prior success breeds new success. We are looking forward to bringing our diagnostic solution to more and more countries and making the world a healthier place for our generations and generations to come.
We Bioperfectus are proud to announce that Bioperfectus products and services have been successfully expanded to over 90 countries around the globe and our machinery sites have exceeded 100 points in the year 2021.
2. Exhibition & Conferences
We are pleased to have taken part in industrial exhibitions and conferences via digital format in 2021 and interacted with our clients and end-users through the virtual platform. We hereby send our sincere gratitude to the organizer of MEDLAB Middle East 2021, FIME, AACC, and Pharmedi Vietnam... We couldn't achieve all of these remarkable activities without the support of the super awesome organizers.
3. Launch the New Official Website
Can you notice it? Our website has been different from before since November 22, 2021. Better interactive user experience, more product browsing function, more exciting news & events' content.
We also speak your language – Hello/ Bonjour/ Hallo/Привет/ Hola.
Starting a new journey on our new website now>>www.bioperfectus.com
Section 3. Social Responsibilities
As a biotechnology corporation, we care for people's health, moreover, we also care for the society that you and I are living in.
In August of 2021, In the face of the second wave of COVID-19 pandemic in Laos, Bioperfectus offered our modest contribution to the local laboratories in the field of molecular diagnosis; in the same month, with the COVID-19 cases resurging in Guyana, another batch of Bioperfectus Viral Nucleic Acid Extraction Kit (Magnetic Bead Method) were handed over to The Cooperative Republic of Guyana by Embassy of People's Republic of China on August 24th, 2021. In September of 2021, in response to China's national promotion of the Sino-Africa health cooperation strategy, Bioperfectus has been closely working with China CDC and sharing our specific molecular diagnostic experience in combating the infectious disease to our African fellows.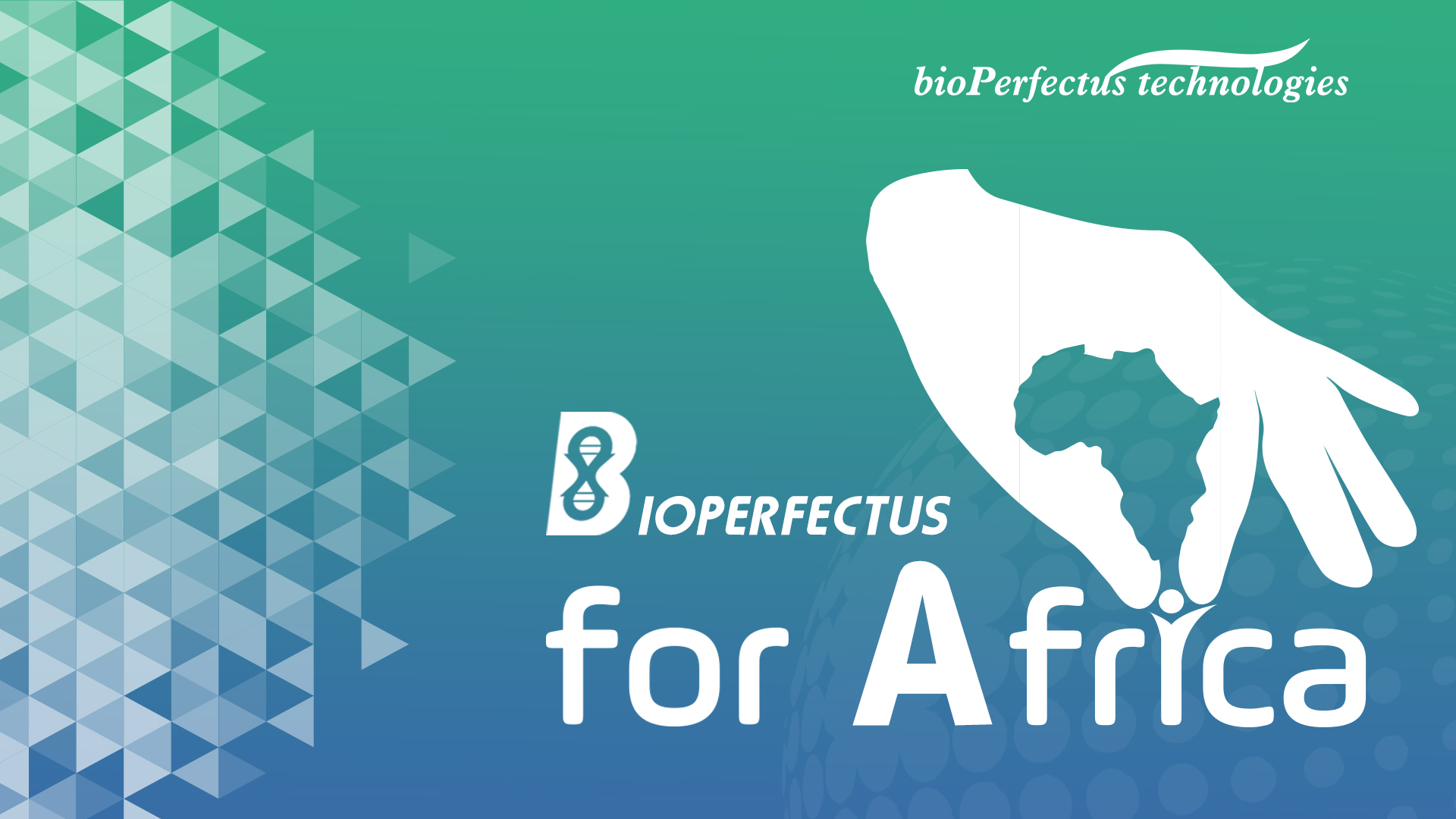 By cooperating with world-renowned organizations and corporations, we are seeing one step further than others. As early as January 2021, Bioperfectus has formed a strategic alliance with Emergo by UL. The partnership will significantly improve the efficiency of the regulatory and registration process and greatly shorten the time of market access for Bioperfectus products in 180+ countries around the globe. In June of 2021, We Bioperfectus are honored to work together with ICGEB (International Centre for Genetic Engineering and Biotechnology) in the field of infectious disease products' clinical research. As a rewarding result of our continuous efforts, our COVID-19 Coronavirus Real-Time PCR Kit has been selected as the official vendor of Global Fund to curb the spread of the COVID-19 pandemic in 2021.
As 2021 comes to an end, and 2022 is approaching, while reviewing the past, we are also looking forward to the future. The glorious stories and moments shaped 2021, what the future will take us? Let's find out our answers in the coming year of 2022 and we would like to take this opportunity to wish all of you a happy, healthy, and prosperous new year!
Goodbye 2021, hello 2022!