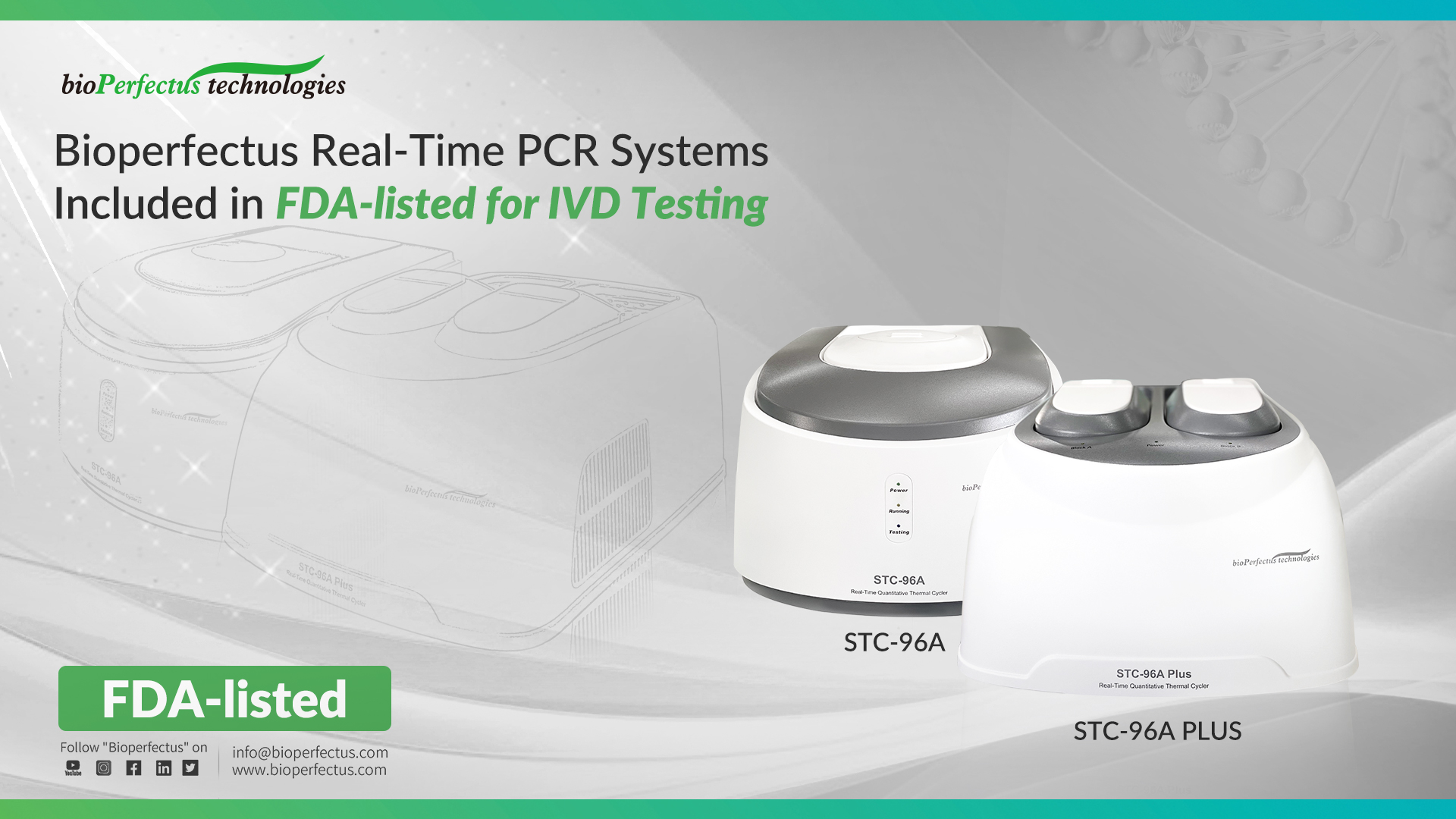 April 17, Shanghai—Today, we Bioperfectus are proud to announce that STC-96A and STC-96A PLUS Real-Time PCR Systems have been listed with the U.S. Food and Drug Administration (FDA) for IVD testing. With FDA registration, Bioperfectus Real-Time PCR Systems obtained access to PCR laboratories in the US. With stable performance and user-friendly design, STC-96A and STC-96A Plus will be great helpers for molecular laboratories to identify the virus and bacterial.
Throughout the COVID-19 pandemic, Bioperfecuts Real-Time PCR Systems with CE Mark have been distributed to over 100 PCR laboratories, molecular diagnostic centers, hospitals, and national laboratories worldwide since the product's launch last November.
Besides STC-96A and STC-96A PLUS PCR system, our automated nucleic acid extraction workstation SAW-96, nucleic acid extraction system (SSNP-2000B/3000A/9600A, SMPE-960), and all extraction kits are also included in FDA-Listed for IVD Testing.
Source: US Food & Drug Administration, https://www.accessdata.fda.gov/scripts/cdrh/cfdocs/cfRL/rl.cfm
Bioperfecuts One Solution, One Supplier, One Response (3 "Ones")Total PCR Solution was introduced earlier this year with a strategy to provide the most advanced molecular diagnostic solution to laboratories worldwide with the fastest and most professional response.
For now Bioperfecuts could provide products from nucleic acids extraction to PCR, from instruments to reagents as a Total PCR Solution supplier for U.S. laboratories.
---
About Bioperfectus
Bioperfectus, a publicly listed company on Shanghai Stock Exchange (SSE:688399), has been a leading molecular diagnostic solution provider specializing in infectious diseases since 2010. With headquarters in Jiangsu, and subsidiaries in Shanghai, Beijing, Xi'an, Taizhou, Hainan, and Yinchuan. Bioperfectus is pioneering in the molecular diagnostics market with our products ranging from real-time PCR kits, nucleic acid extraction systems, rapid tests, and automation laboratory devices. Young and passionate, Bioperfectus people are working steadily and firmly to achieve our dream of creating a healthier future for our next generations. For more information, please follow us on LinkedIn or visit www.bioperfectus.com .