The monkeypox virus, shown here in a colored electron micrograph, typically spreads by skin-to-skin contact or respiratory droplets. Sexual transmission may play a role in the new outbreak. CDC/CYNTHIA S. GOLDSMITH/SCIENCE SOURCE
On 17 June, the WHO released its latest update on the Monkeypox outbreak situation. The sharp growth of confirmed cases during the last two months indicates increasing uncertainty of the endemic progress. Between 1 January and 15 June 2022, a cumulative total of 2103 laboratory confirmed cases, one probable case, and one death were laboratory-confirmed had reported to WHO from 42 countries in five WHO Regions. The majority of cases (98%) have been reported since May 2022. Most cases are recognized and reported from European countries, followed by the American region.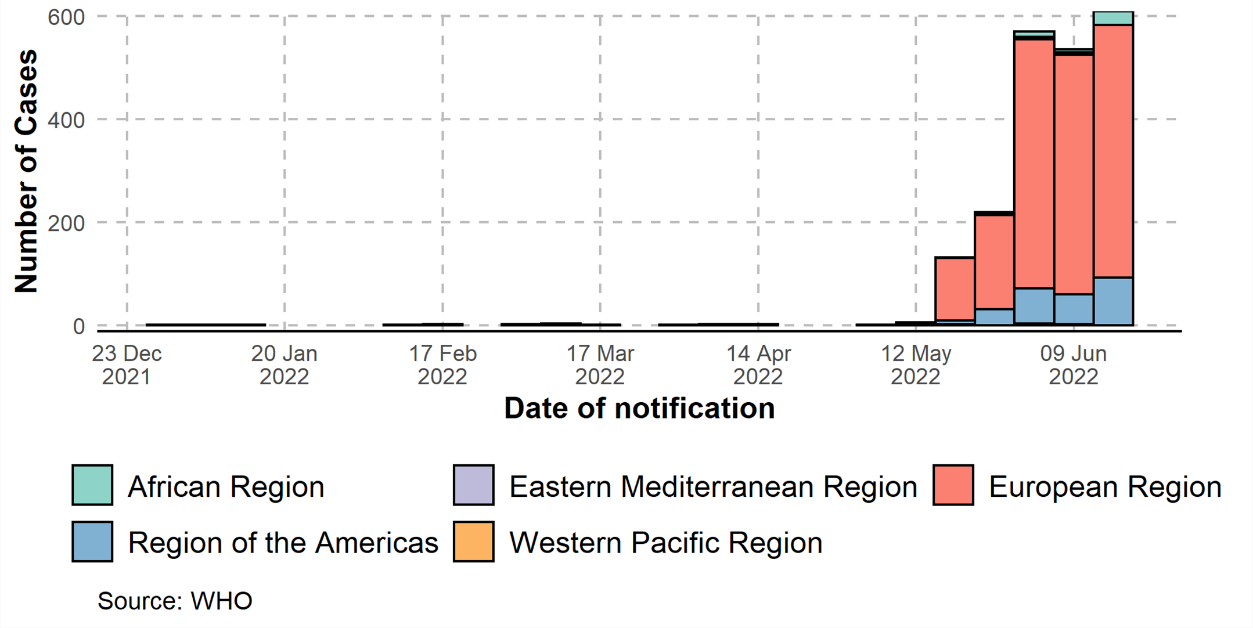 Figure 1: Confirmed cases of monkeypox by WHO region from January 2022 to 15 June 2022, data as of 15 June 2022 at 17:00 CEST
Table 1: Confirmed cases of monkeypox by WHO region from January 2022 to 15 June 2022, data as of 15 June 2022 17:00 CEST
On June 8, 2022, the Lancet also published a correspondence article to review the progress of the Monkeypox outbreak ever since the first reported case in the 2022 outbreak. While the cumulative cases and relevant countries are expanding, the article points out that the reason for the outbreak having a broader geographical reach is still undergoing investigation by the international and national public health community and the research community, contributing to a finer-scale understanding of the outbreak dynamics. Although it seems that Monkeypox will not be something like the COVID due to its limitation of infectiveness and transmission access, the future development of the outbreak remains unclear.
"Real-time data are necessary to plan effective control measures should this outbreak grow further. The work built on infrastructure developed for epidemic control and pandemic preparedness and was used for the COVID-19 pandemic." as the authors stated.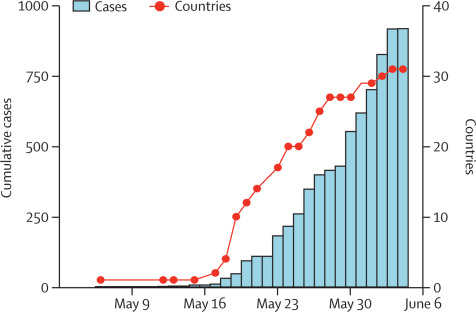 Total Monkeypox PCR Solution
We provide a CE-approved PCR Kit as a detection tool in the early confirmation stage of the monkeypox virus. To meet customers' clinical needs, this kit uses the recommended method for Monkeypox confirmation, the real-time polymerase chain reaction (real-time PCR). It is compatible with the recommended specimen type for diagnosis, the skin lesion material. So far, the kit has already been delivered to over 50 countries, and the total amount nearly exceeded 100 thousand pieces.
For stable results, we recommend using Bioperfectus Total Monkeypox PCR Solution with the verified performance of instruments and reagents. This PCR solution could support manually and automatically extracting purified nucleic acid from samples, providing laboratories with economic convenience. The total solution covers the extraction, amplification, and analysis process, which will convince laboratories with reassuring final PCR results and help doctors to make accurate clinical decisions for monkeypox suspected patients.
Recently, our real-time PCR system STC-96A and STC-96A PLUS have been listed with the U.S. Food and Drug Administration (FDA) for IVD testing. We are proud to provide products from nucleic acid extraction to PCR, from instruments to reagents for more laboratories worldwide.
As a one-stop solution provider for whole operations of PCR procedure, we have different throughput instruments to satisfy various testing scenarios. And we will keep up with our innovations of high-performing products to feat more new infectious diseases.
Learn more about Monkeypox Virus Real Time PCR Kit
Reference:
[1] https://www.who.int/emergencies/disease-outbreak-news/item/2022-DON393
[2] Moritz U G Kraemer, Houriiyah Tegally D, et al., Tracking the 2022 monkeypox outbreak with epidemiological data in real-time, June 08, 2022, The Lancet Infectious Diseases