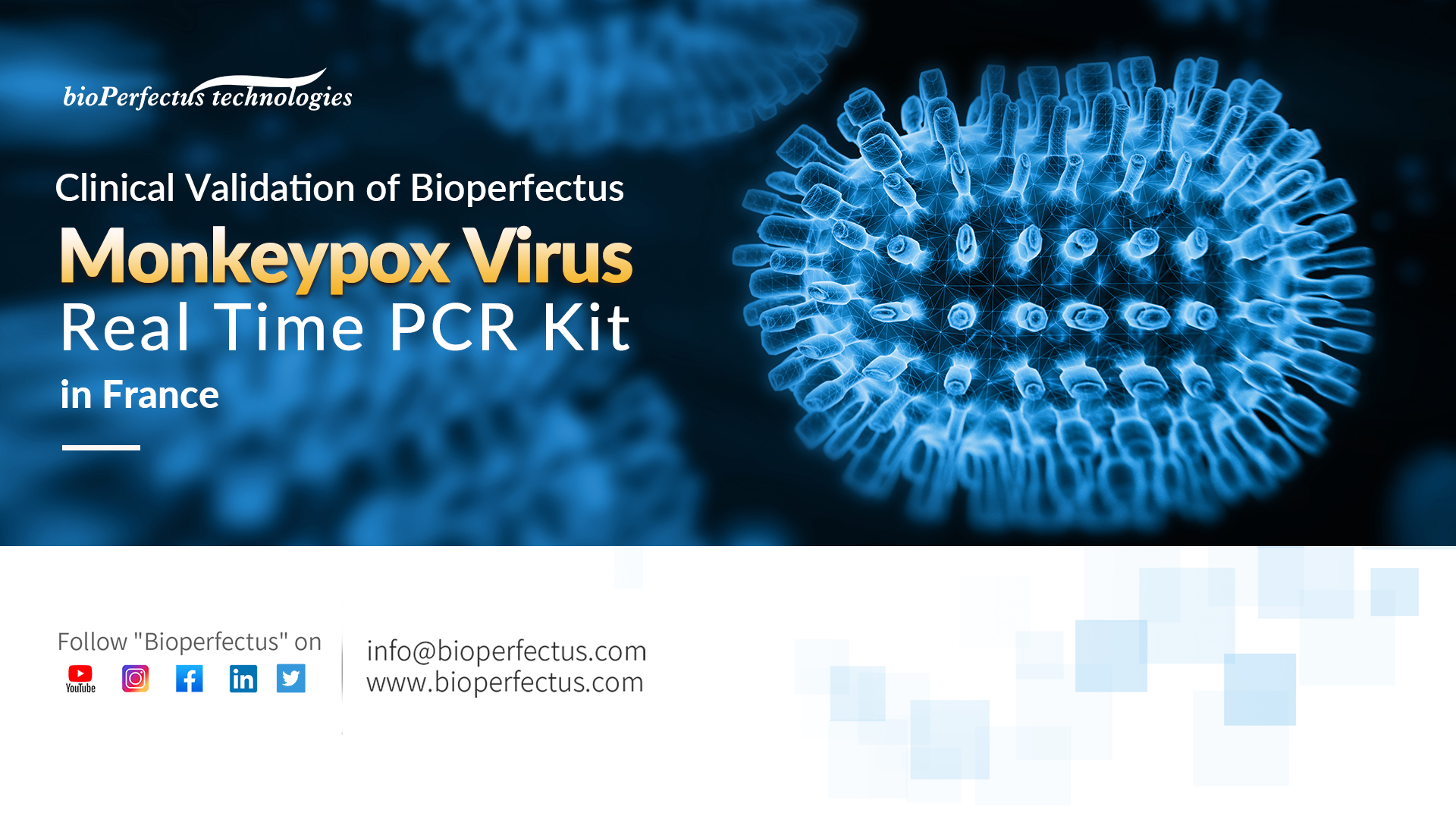 July 22, Shanghai--Bioperfectus, together with our partner in France, R-Biopharm France, has completed the clinical validation of the Bioperfectus Monkeypox Virus Real Time PCR Kit in l'institut de recherche biomédicale des armées (the Institute of Biomedical Research of the Armed Forces, IRBA), an organization established by the Army Health Service (SSA) in France. The validation result shows solid evidence that Bioperfecuts Monkeypox Virus Real Time PCR Kit has clinically qualified sensitivity and specificity to fulfill the virus detection and diagnosis requirement in PCR laboratories. Positive control and negative control were validated, allowing the interpretation of the results.
Bioperfectus and R-Biopharm France, the leading players in the field in Europe and China, have established close cooperation on the molecular diagnostic solution, and are dedicated to jointly providing highly qualified molecular diagnostics products from nucleic acid extraction solution to real-time qPCR assays to our European laboratories.
Bioperfectus has always stuck to the first line of fighting against infectious disease outbreaks as a manufacturer specializing in molecular diagnosis for over a decade. BioPerfectus Monkeypox Virus Real Time PCR Kit has been validated, approved, and used to test and track the Monkeypox virus in several high and key-level public and private laboratories worldwide. So far, over 100,000 test kits have been delivered to over 100 countries around the globe.
Click here to download the Protocole pour la détection du virus MONKEYPOX par PCR en temps réel
---
About Bioperfectus
Bioperfectus, a publicly listed company on the Shanghai Stock Exchange (SSE:688399), has been a leading molecular diagnostic solution provider specializing in infectious diseases since 2010. With headquarters in Jiangsu, and subsidiaries in Shanghai, Beijing, Xi'an, Taizhou, Hainan, and Yinchuan, Bioperfectus is a pioneer in the molecular diagnostics market with products ranging from real-time PCR kits, nucleic acid extraction systems, rapid tests, and automated laboratory devices. Young and passionate, Bioperfectus is working steadily and firmly to achieve the dream of creating a healthier future for our next generations. For more information, please follow us on LinkedIn or visit www.bioperfectus.com.
About R-Biopharm France
R-Biopharm France is a French subsidiary of R-Biopharm AG located in Germany (Darmstadt, near Frankfurt). Spread all over the world with 13 subsidiaries, 18 production, research or analysis sites and more than 80 distributors, R-Biopharm is, to date, a key player in field and laboratory diagnostics. R-Biopharm is certified to the international standards ISO 9001 and ISO 13485. Located in St Didier-Au-Mont D'Or, a suburb north-west of Lyon, R-Biopharm France has been offering food and clinical diagnostic tests as well as personalized health tests for more than 30 years.